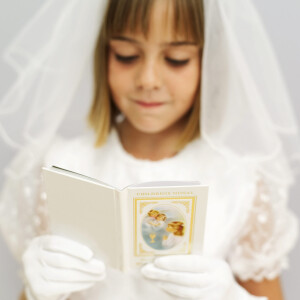 Christ promised "Behold, I am with you always, until the end of the age"(Mt. 28:20). In order to continue to be present throughout the ages until His return, Christ instituted the Eucharist. He entrusted the Eucharist to His Church and it continues to be a source of communion and nourishment for his faithful. The Eucharist is a direct encounter with Christ. The Catholic Church confesses that the Eucharist is not simply a mere symbol, but the actual Body and Blood, Soul and Divinity of Jesus Christ.
"
Families are required to participate in a First Eucharist Preparation retreat. At least one parent and the child(ren) receiving First Eucharist are to attend the First Eucharist session together.
To register, please call Berni at 815-463-4262 for available options or with any questions."
All children must complete a First Eucharist preparation session before receiving the Sacrament.
Please contact the Faith Formation Office if you have any questions or still need to complete your sacrament preparation.
FIRST EUCHARIST PRACTICE:
To ensure adequate preparation for the First Eucharist Mass, every First Communicant and his/her parent must attend a mandatory practice in the week before their First Eucharist. The practice will be held in the church. The date and time of the practice is dependent on the date of your child's First Eucharist.
Reception of First Eucharist:
FIRST EUCHARIST MASSES
The date of your child's First Eucharist practice and Mass will be assigned. The children will be assigned a specific day and time according to their school teacher, catechist or program.