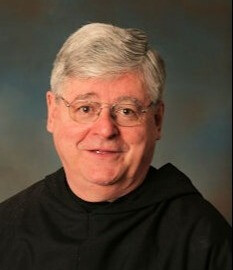 Father Bill Sullivan, O.S.A.
Parochial Vicar,
Office: 815-485-8049
Fr. Bill was born and raised on the south side of Chicago. His father was a purchasing agent for Western Electric for 29 years and his mother was a teacher at St. Cajetan School, Chicago, for twenty-three years. He has a younger brother and a sister who still live in the suburbs of Chicago.
Fr. Bill attended St. Dorothy School, Mendel Catholic High School in Chicago, one year at St. Joseph College in Rensselaer, IN, before joining the Augustinian Novitiate in Wisconsin.
In 1961, he professed his vows as an Augustinian. He continued his studies at Tolentine College (an extension of Villanova University) with a Bachelor of Arts degree in Philosophy in 1964. He professed his solemn vows as an Augustinian that September 4, 1964. He studied theology at Tolentine College for 4 years and did graduate work at DePaul University in American History.
On September 23, 1967, Fr. Bill was ordained a priest in the Augustinian order by Bishop John C. McNabb, O.S.A., at Tolentine College in Olympia Fields, Illinois.