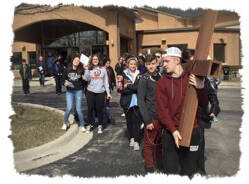 Friday, April 07, 2023
,
10:00 AM - 12:00 PM
All denominations are invited to participate in this symbolic walk of Jesus to Calavary.
The cross will be carried by youth from local churches
A hymn, brief homily and prayer will be said inside St. Jude and United Methodist and then end at Maplewood Cemetery.
Walkers will follow the cross from each site.